As part of our project to document the names on the Cenotaph in Charles Hoey Park, here is a page about Acting Lieutenant William McKinstry Maitland-Dougall, who was killed in action on 15 March, 1918, aged 23, when H.M.S. D.3, the submarine on which he was serving and commanding, was lost at sea.
The sinking of D.3 was a case of "friendly fire." The British submarine was attacked off Le Havre, France on 12 March 1918 [note: the Commonwealth War Graves Commission shows the date as 15 March 1918. The 12 March 1918 date is taken from the CFB Esquimalt Museum website] by a French airship, which did not know the Allied submarine recognition signals and bombed the submarine while it was on the surface. British divers discovered the wreck of D.3 in 2007.
Acting Lieutenant William McKinstry Maitland-Dougall has no known grave but is commemorated on the Halifax Memorial, Halifax, Nova Scotia. His parents, James St. Leger Maitland-Dougall and Winnifred Maitland-Dougall, are buried in St. Peter's Quamichan Anglican Cemetery, North Cowichan.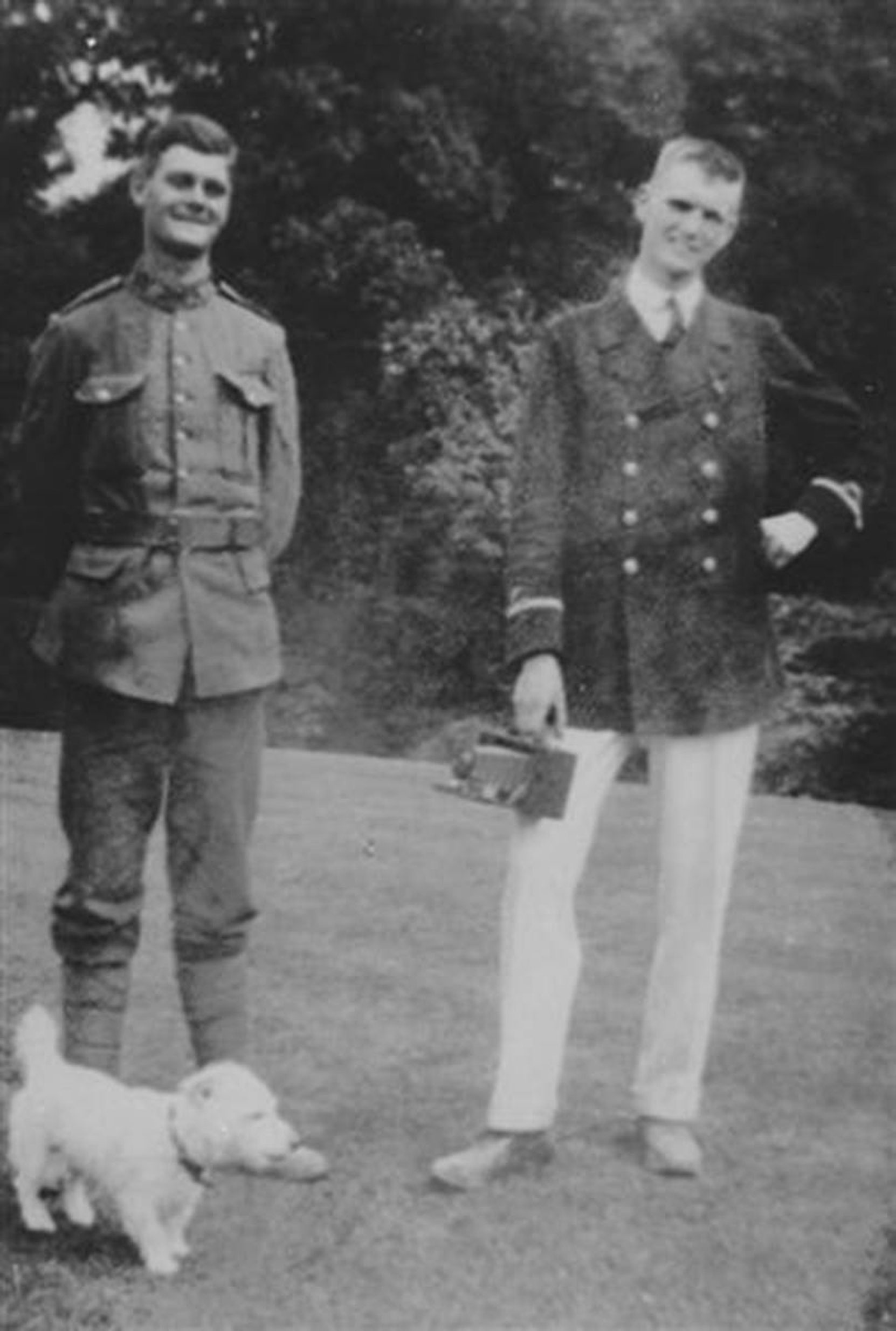 Here are the reports of his death in the local Cowichan Leader newspaper:
"HEROIC END
Tribute To A Gallant Officer Of The "Silent Service"
Many people are asking for further particulars regarding the death of the sailor son of Mr. James Maitland-Dougall, Duncan. He has recently received a copy of a letter written to his sister by Capt. Alexander Quicke, R.N., H.M.S. Dolphin, submarine depot, England, who was his son's senior officer.
Extracts from this letter are appended. Capt. Quicke writes:-
"It is my very sad duty to write to tell you that I fear there is no hope whatever but that your nephew and my very dear friend, William Maitland-Dougall, has been lost. I brought your nephew across from Canada with me and he was my friend; professionally he was in the very front rank of our young submarine captains.
As regards your question as to how your nephew's submarine came to grief, it is not one of those things one may talk about. [Note: the sinking of D.3 was a case of "friendly fire by a French airship. The details were not released until several years after the war.] It is not the easiest part of such a position as mine that one must send these good fellows and splendid officers out to their difficult work, and say nothing to their relatives when something happens to them. Thank God it does not happen more often than it does.
I can at least tell you that there was no question, so far as one knows, of their having any long period of suspense for those in the boat. Their end came quickly and there is no question as to how they would meet it in any vessel commanded by your nephew, and if the loss of his submarine could have been averted by any exercise of professional judgment and skill, then with your nephew in command it would have been so averted."
(Source: Cowichan Leader, 18 April 1918, from Cowichan Valley Museum & Archives collections)
Here are some websites with more information on William McKinstry Maitland-Dougall
This article by T.W. Paterson appeared in the 11 November 2019 edition of the Cowichan Valley Citizen. We have reproduced it here in case the Cowichan Valley Citizen original is taken off line:
"REMEMBRANCE DAY: Old wristwatch is an echo of the First World War
A chance discovery in a box of old watches recalls heroic Cowichan Valley brothers.
A chance discovery in a box of old watches recalls heroic Cowichan Valley brothers.
It's almost time for another St. Peter's, Quamichan, Veteran Cemetery Tour, Tea and Display.
Led by St. Peter's resident historian and former Cowichan Valley Museum curator Priscilla Lowe, this year's tour will begin at 1:45 p.m., Nov. 11 at St. Peter's, 5800 Church Rd. (off Maple Bay Road). The $5 ticket includes the tour, the tea and a display.
Among the highlights of the annual cemetery tour will be the story of the circuitous journey of William Maitland-Dougall's wristwatch.
Neither William nor his brother Hamish, both of whom were killed in the First World War, are buried in St. Peter's cemetery but they're listed on the church's granite memorial stone immediately outside the church. I've told the story of its having been dragged more than a mile by horses on a stone boat, and also the stories of both brothers: younger brother Hamish, who was killed at Vimy Ridge in 1917, and William, who died in 1918 while being the first Canadian to command a British submarine.
Today, at the risk of pre-empting Priscilla's storyline during Monday's Remembrance Day tour, I'm going to let her give you a preview of the great story about how William's watch turned up, years after his mother's death.
Although the maker of the watch is given on its front as "S. Smith & Son Trafalgar Square London," it's also identified as being "Swiss Made." This refers to its inner workings, known as its movement, having been assembled in Switzerland, indicating that Smith & Son created the case. Thanks to Priscilla's research we know that S. Smith & Son "have a connection to not only watches and jewelry but to the British auto industry. A branch of the company still exists today, although they stopped making watches in 1979. They are now involved with the aero-space industry as Smith's Group Public Ltd. Co. The company goes back to 1851 when Samuel Smith opened a shop. He made and sold watches, clocks and precision instruments."
Here, Priscilla explains, things get somewhat confusing thanks to conflicting information on the internet.
In 1873, "his son, Samuel Smith Jr., opened larger premises on The Strand and later had shops in Piccadilly and Trafalgar Square in London. His eldest son, Sir Allan Gordon-Smith, who joined in at 9 Strand in 1903…laid the foundation for the future by leading the company to supplying accessories to the motor industry.
"He began with car clocks, then speedometers in 1904.
By 1926, Smith was producing 100,000 car clocks per year. In 1930 the company sold all assets of its lighting, starting and ignition department and more to Joseph Lucas Ltd., well known for their auto electrics."
It was S. Smith & Son who supplied Edmund Hillary with a Smith's watch for his famous 1953 climb up Mount Everest. As Priscilla points out, the Smith watch got there before the Rolex!
By the 1970s, however, the Smith company was facing financial difficulties and an appeal to Prime Minister Margaret Thatcher's Conservative government for financial assistance was rebuffed.
So much for S. Smith & Son, watchmakers and back to William Maitland-Dougall's watch.
This family was well-known and highly respected in the Cowichan Valley in those days, the father, James St. Leger Maitland-Dougall (1867-1940) having long been the Government Agent, an important public position that included the duties of magistrate. With wife Winnifred McKinstry Heriot Watson (1873-1954), he's buried at St. Peter's, Quamichan. Winnifred unveiled the new war memorial in Duncan in 1921.
They had just the two sons: William McKinstry Maitland-Dougall (1895-1918) and Hamish Kinnear Maitland-Dougall (1898-1917). I've told their story in these pages before, and in my book, Cowichan Goes to War, 1914-1918, but, today, it's Priscilla's turn at bat.
So, in her own words: "9 April 1917. Easter Monday. Lance Cpl. Hamish Maitland-Dougall's unit of the 102nd Bn. led the initial assault on Vimy Ridge. Five days after his 20th birthday he was killed; [he has] no known grave.
"Lieut. William Maitland-Dougall was the first Royal Canadian Navy officer to volunteer for the new submarine service. He was also the first RCN officer to command a British submarine or warship of any kind and the youngest RCN officer to command a ship of any kind.
"He was in command of the D3 submarine. He died two days short of his 23rd birthday, on March 12, 1918. This was a case of so-called 'friendly fire,' as it was a French airship that sank his submarine. [It was a sad case of mistaken identity—TWP.] The precise date of death isn't known."
Almost a year earlier, on William's 22nd birthday, on March 14, 1917, Hamish had met him for lunch and given him the watch with the inscription, To Willie from Hamish. March 14th 1917. W. Maitland-Dougall.
Twenty-six days later, five days after his own 20th birthday, Hamish was killed at Vimy Ridge. After the death of William in 1918, his possessions, including his watch, were returned to his parents in Duncan.
In 1946, William's watch was taken to Rose's Jewelers in Victoria for repair. Priscilla thinks that Mother Winnifred "perhaps had used it for years and it had finally quit. [But] the watch was never claimed. This was probably due to the fact she just forgot, as she was 73 in 1946."
Which is where Rick Ross comes into the story. His father was a manager at Rose's Jewelers in Victoria where he repaired watches. When he died, Rick found a box of watches, including the one with the identifying Maitland-Dougall inscription.
On Remembrance Day, 2012, he presented it to St. Peter's parish.
As Priscilla sums it up: "How wonderful that William's watch has survived and is in the home town of the two brothers. They were born in Duncan, baptized and confirmed at St, Peter's, Quamichan and, after 66 years, thanks to Rick Ross, we have this precious memento of them."
(Source: Cowichan Valley Citizen, 11 November 2019)
Would you like to leave a comment or question about anything on this page?