As part of our project to document the names on the Duncan Cenotaph in Charles Hoey Park in downtown Duncan, here is a page on James Kinver Doney.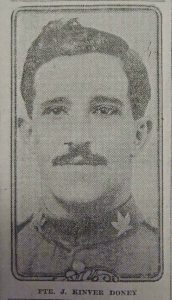 Rank: Company Sergeant-Major
Service Number: 706012
Date of Death: 1 March 1917, aged 25
Regiment: Canadian Infantry, 54th Battalion
No known grave. Commemorated on the Vimy Memorial
Here is the report of James Kinver Doney's death from the local Cowichan Leader newspaper.
"COWICHAN STATION
J. Kinver Doney, who was reported killed yesterday, was the eldest son of Mr. and Mrs. Thomas Doney, [note: his mother was named Marie] who have worked the old Lewis Estate at Cowichan Station for the last ten years. He joined the B.C. Horse in April 1915. When that battalion was amalgamated with the 103rd, he went to Shorncliffe as instructor. He was later transferred to the 16th Battalion. In order to get to the front he gave up his Sergt.-Major's stripes. He reached France in February [illegible in original] and was killed on March 1. He had the reputation of being one of the best athletes in Cowichan. He won many prizes as a sprinter in meets in Victoria and Shawnigan Lake, and was a member of the Cowichan Basketball Club. His parents were born in England and farmed in Arizona before coming to this Island."
(Source: Cowichan Valley Museum & Archives collections)
Here are links to more information on James Kinver Doney
Would you like to leave a comment or question about anything on this page?