236 Government Street, known locally as "the Round Building", was built in 1971 as a B.C. provincial government office building. The project also included construction of the adjacent B.C. Provincial Courthouse building.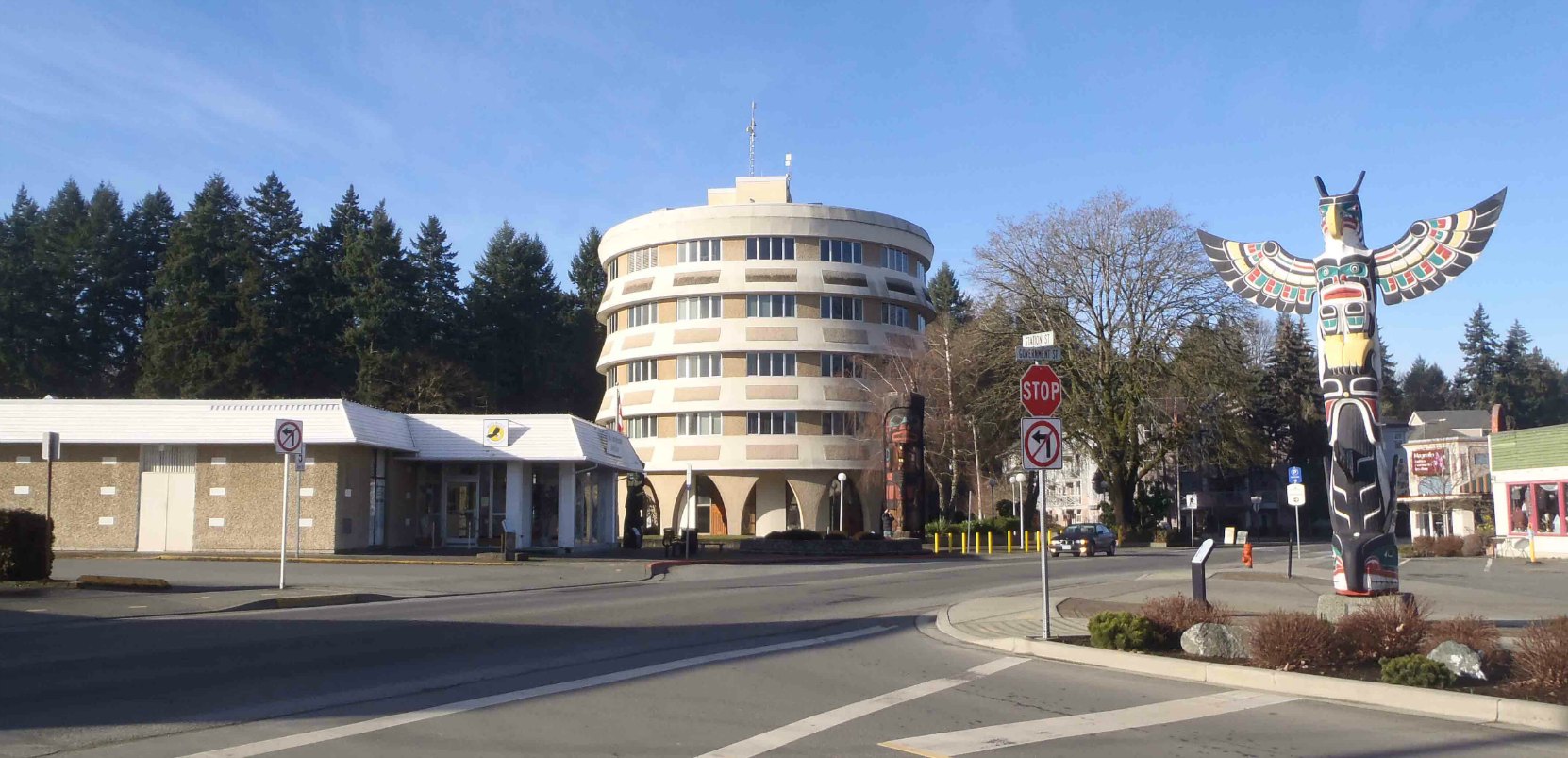 The project which built "the round building" and the B.C. Provincial Courthouse was controversial because it involved the demolition of Duncan's historic Chinatown to make way for the "Round Building" and the new Court House building.
A Brief History of the Round Building
236 Government Street was officially opened on 21 October 1970 in a ribbon cutting ceremony attended by B.C. Premier W.A.C. Bennett, members of Cabinet, Duncan Mayor Jim Quaife and other local officials.
Duncan Mayor Quaife told the local newspaper the new building was "a bold and refreshing" design and "at first sight it takes your breath away." He went on to say that planning for the project had started in 1963 as "a dream to solidify the downtown area" but it was "just unfortunate that in fulfilling this dream we must destroy part of the history of this area" by dismantling Duncan's Chinatown.
In retrospect it is interesting to speculate what use could have been made of Duncan Chinatown today if it had not been demolished in 1969-70. In our view, Duncan's former Chinatown could have made an excellent tourism draw, particularly with the Asian tour groups that now come to Duncan and the Cowichan Valley, but that's a moot point now since Duncan's Chinatown was completely demolished in 1969-70.
The "round building" has had many problems since it was first opened in 1970. In 1991 asbestos was discovered in the ceilings. Although the government agent stated at the time that the asbestos was "safe as long as you don't move any ceiling or walls", remediation of the asbestos was required. This involved moving all the tenants and government operations out the building for over a year while asbestos was removed. The B.C. Building Corporation, the provincial government's property managers, hired architect John Di Castri "to redesign parts of the building."
The provincial government also discovered that the building's electrical wiring was outdated and inadequate for computer reliant businesses and government departments. "It's a difficult building for occupancy," said the B.C. Buildings Corporation representative in January 1993, "because now the whole of government is electronic…..the whole world outgrows the space it has."
In the 1990's the B.C. Provincial Government advanced the idea of selling this building. That never happened.
The B.C. Provincial Government still owns the "Round Building" and it is currently occupied by B.C. government offices.
Would you like to leave a comment or question about anything on this page?